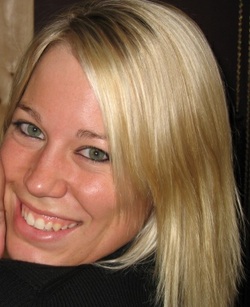 E.B.N. Pediatric Occupational Therapy was developed by Erin Beussman Nelson. She earned a Master's Degree in Occupational Therapy from the College of St. Catherine in St. Paul, MN in 2004 and has been practicing within pediatric outpatient clinics ever since.
Erin has a strong passion for more developmentally-based occupational therapy practice, with a strong passion to emphasize the importance of direct family, caregiver, and school staff involvement; coaching; understanding each child's and families' needs; and to provide kind, caring and compassionate direct therapy.
Erin created E.B.N. Pediatric Occupational Therapy Services to follow her dream to work more directly with families and caregivers in relation to their child's unique processing and motor needs and to provide a unique service for children and families in the Greater Twin Cities Metro area.
Erin's practice is guided by the DIR®/Floortime model, which puts an emphasis on working with abilities and passions, strengthening developmental capacities, respecting individual differences, and supporting important relationships. She is a
DIR®/Floortime Intermediate Provider
and is working towards full certification within the DIR®/Floortime model, receiving regular mentoring from expert DIR®/Floortime clinicians as a part of this process. For more information, please visit
www.icdl.com
and
www.profectum.org
.
---
Erin's Education, Trainings, and Certificates
~ Completed DIR®/Floortime Certification: Intermediate Provider

~ Continuous monthly and bi-monthly direct mentoring by DIR®/Floortime faculty.
Rosemary White, OTR/L and Barbara Kalmanson, Ph.D. in Psychology

~ Completion of DIRB Certificate Training in the DIR®/Floortime Philosophy.
Trainings by Rosemary White, OTR/L and Kathy Platzman, Ph.D. in Psychology

~ The Greenspan Floortime Approach™
Presented By Jacob Greenspan, M.A.

~ Profectum™ Foundation Annual Conference
Presented by Serena Wieder, Ph.D. in Psychology and Profectum Faculty

~ A Comprehensive Assessment and Intervention Using the DIR/Floortime® Model
Presented By Sherri Cawn, MA, CCC-SLP

~ Interdisciplinary Council on Developmental Learning Disorders (ICDL) Annual Conferences
Presented By Stanley Greenspan, M.D. and ICDL and DIR®/Floortime faculty

~ The Basic Course on the DIR/Floortime® Approach
Presented by Dr. Stanley Greenspan, ICDL/DIR®/FloortimeColleagues

~ Certified Provider of The Listening Program®

~ Trained in Therapeutic Listening®

~ Astronaut Training: Sound Activated Vestibular-Visual Protocol
Presented by Mary Kawar, OT

~ Pediatric Cranio Sacral/Myofacial Release

~ Brain Gym®
Presented by Judy S. Grant, J.D., MAPA, OTR/L

~ The S.O.S. Approach to Feeding
Presented by Kay Toomey, Ph.D.

~ Pediatric Kinesio Taping